PodBible: the Bible a chapter a day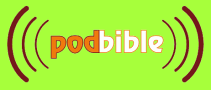 Info
Username:
podbible
Description:
Audio Bible read a chapter a day by a variety of ordinary people of all ages. Very short, openended, something to think about, pray about and do after each chapter to get you thinking. This audio Bible uses the CEV a simple translation designed to be read
URL of Podcast Homepage:
http://podbible.com/podcast
Category:
Bible Study Podcasts
Member Since:
2006-08-18
Average Rating:
2 / 5
Number of Ratings:
201
Reviews
2006-10-05 15:49:06
Real people reading the Bible, not some actor, sometimes they even stumble over difficult words! It's like reading for yourself.
2006-10-26 21:43:02
its just so real
Rate and Review This Podcast
Show All Reviews
Stats
| Daily | Unique PVs | Total PVs | Unique In | Total In | Unique Out | Total Out |
| --- | --- | --- | --- | --- | --- | --- |
| Average | 2.5 | 2.8 | 0 | 0 | 0.1 | 0.1 |
| Today | 1 | 2 | 0 | 0 | 0 | 0 |
| Yesterday | 1 | 1 | 0 | 0 | 0 | 0 |
| Aug 25 | 4 | 4 | 0 | 0 | 0 | 0 |
| Aug 24 | 5 | 5 | 0 | 0 | 0 | 0 |
| Aug 23 | 0 | 0 | 0 | 0 | 0 | 0 |
| Aug 22 | 2 | 2 | 0 | 0 | 0 | 0 |
| Aug 21 | 2 | 2 | 0 | 0 | 0 | 0 |
| Aug 20 | 2 | 3 | 0 | 0 | 0 | 0 |
| Aug 19 | 4 | 4 | 0 | 0 | 0 | 0 |
| Aug 18 | 4 | 5 | 0 | 0 | 1 | 1 |
| Highest | 100 | 329 | 2 | 18 | 8 | 8 |
| Weekly | Unique PVs | Total PVs | Unique In | Total In | Unique Out | Total Out |
| --- | --- | --- | --- | --- | --- | --- |
| Average | 28.3 | 38.4 | 0 | 0 | 1.7 | 1.7 |
| This Week | 13 | 14 | 0 | 0 | 0 | 0 |
| Last Week | 20 | 34 | 0 | 0 | 2 | 2 |
| Week 32 | 19 | 27 | 0 | 0 | 2 | 2 |
| Week 31 | 22 | 35 | 0 | 0 | 1 | 1 |
| Week 30 | 25 | 30 | 0 | 0 | 4 | 4 |
| Week 29 | 30 | 42 | 0 | 0 | 3 | 3 |
| Week 28 | 25 | 34 | 0 | 0 | 0 | 0 |
| Week 27 | 29 | 36 | 0 | 0 | 2 | 2 |
| Week 26 | 48 | 68 | 0 | 0 | 2 | 2 |
| Week 25 | 52 | 64 | 0 | 0 | 1 | 1 |
| Highest | 424 | 1121 | 3 | 18 | 21 | 24 |
| Monthly | Unique PVs | Total PVs | Unique In | Total In | Unique Out | Total Out |
| --- | --- | --- | --- | --- | --- | --- |
| Average | 175.8 | 243 | 0 | 0 | 5.8 | 5.9 |
| This Month | 74 | 110 | 0 | 0 | 5 | 5 |
| Last Month | 125 | 162 | 0 | 0 | 10 | 10 |
| Jun 16 | 205 | 285 | 0 | 0 | 7 | 7 |
| May 16 | 178 | 220 | 0 | 0 | 7 | 7 |
| Apr 16 | 218 | 288 | 0 | 0 | 8 | 8 |
| Mar 16 | 229 | 302 | 0 | 0 | 9 | 9 |
| Feb 16 | 199 | 275 | 0 | 0 | 5 | 5 |
| Jan 16 | 259 | 415 | 0 | 0 | 6 | 7 |
| Dec 15 | 128 | 179 | 0 | 0 | 0 | 0 |
| Nov 15 | 143 | 194 | 0 | 0 | 1 | 1 |
| Highest | 1461 | 3739 | 5 | 19 | 50 | 53 |
| | Unique PVs | Total PVs | Unique In | Total In | Unique Out | Total Out |
| --- | --- | --- | --- | --- | --- | --- |
| Overall | 52468 | 119400 | 70 | 97 | 966 | 992 |