PodBible: the Bible a chapter a day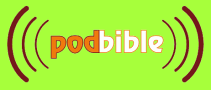 Info
Username:
podbible
Description:
Audio Bible read a chapter a day by a variety of ordinary people of all ages. Very short, openended, something to think about, pray about and do after each chapter to get you thinking. This audio Bible uses the CEV a simple translation designed to be read
URL of Podcast Homepage:
http://podbible.com/podcast
Category:
Bible Study Podcasts
Member Since:
2006-08-18
Average Rating:
2 / 5
Number of Ratings:
201
Reviews
2006-10-24 20:58:16
Most of the MP3s are good, all are small. Occasionally a reader stumbles over a hard Old Testament name, but that just makes it feel more like being an Early Christian listening to someone reading Scripture aloud.
2006-10-26 21:43:02
its just so real
Rate and Review This Podcast
Show All Reviews
Stats
| Daily | Unique PVs | Total PVs | Unique In | Total In | Unique Out | Total Out |
| --- | --- | --- | --- | --- | --- | --- |
| Average | 5.4 | 7.3 | 0 | 0 | 0.1 | 0.1 |
| Today | 4 | 4 | 0 | 0 | 0 | 0 |
| Yesterday | 5 | 5 | 0 | 0 | 0 | 0 |
| Dec 8 | 4 | 4 | 0 | 0 | 0 | 0 |
| Dec 7 | 5 | 5 | 0 | 0 | 0 | 0 |
| Dec 6 | 5 | 6 | 0 | 0 | 0 | 0 |
| Dec 5 | 9 | 13 | 0 | 0 | 0 | 0 |
| Dec 4 | 5 | 5 | 0 | 0 | 0 | 0 |
| Dec 3 | 7 | 15 | 0 | 0 | 0 | 0 |
| Dec 2 | 6 | 10 | 0 | 0 | 0 | 0 |
| Dec 1 | 4 | 6 | 0 | 0 | 1 | 1 |
| Highest | 100 | 329 | 2 | 18 | 8 | 8 |
| Weekly | Unique PVs | Total PVs | Unique In | Total In | Unique Out | Total Out |
| --- | --- | --- | --- | --- | --- | --- |
| Average | 33.7 | 50.5 | 0 | 0 | 1.3 | 1.3 |
| This Week | 32 | 37 | 0 | 0 | 0 | 0 |
| Last Week | 36 | 54 | 0 | 0 | 2 | 2 |
| Week 47 | 32 | 55 | 0 | 0 | 1 | 1 |
| Week 46 | 43 | 65 | 0 | 0 | 0 | 0 |
| Week 45 | 37 | 65 | 0 | 0 | 2 | 2 |
| Week 44 | 32 | 43 | 0 | 0 | 3 | 3 |
| Week 43 | 35 | 46 | 0 | 0 | 2 | 2 |
| Week 42 | 34 | 78 | 0 | 0 | 1 | 1 |
| Week 41 | 28 | 29 | 0 | 0 | 1 | 1 |
| Week 40 | 28 | 33 | 0 | 0 | 1 | 1 |
| Highest | 424 | 1121 | 3 | 18 | 21 | 24 |
| Monthly | Unique PVs | Total PVs | Unique In | Total In | Unique Out | Total Out |
| --- | --- | --- | --- | --- | --- | --- |
| Average | 153.1 | 213.1 | 0 | 0 | 6.5 | 6.5 |
| This Month | 54 | 73 | 0 | 0 | 1 | 1 |
| Last Month | 154 | 242 | 0 | 0 | 6 | 6 |
| Oct 16 | 141 | 213 | 0 | 0 | 8 | 8 |
| Sep 16 | 141 | 223 | 0 | 0 | 4 | 4 |
| Aug 16 | 86 | 123 | 0 | 0 | 5 | 5 |
| Jul 16 | 125 | 162 | 0 | 0 | 10 | 10 |
| Jun 16 | 205 | 285 | 0 | 0 | 7 | 7 |
| May 16 | 178 | 220 | 0 | 0 | 7 | 7 |
| Apr 16 | 218 | 288 | 0 | 0 | 8 | 8 |
| Mar 16 | 229 | 302 | 0 | 0 | 9 | 9 |
| Highest | 1461 | 3739 | 5 | 19 | 50 | 53 |
| | Unique PVs | Total PVs | Unique In | Total In | Unique Out | Total Out |
| --- | --- | --- | --- | --- | --- | --- |
| Overall | 52970 | 120164 | 70 | 97 | 985 | 1011 |