Family Worship Center - Pastor Pat Sheean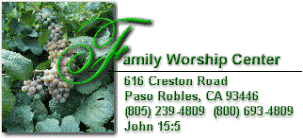 Info
Username:
family66
Description:
Weekly messages and Bible studies from Pastor Pat Sheean. Pat focuses on living life in the Spirit. Listen and grow in your walk with Jesus Christ.
URL of Podcast Homepage:
http://www.pasoroblesfwc.com
Category:
Sermons
Member Since:
2006-07-30
Average Rating:
5 / 5
Number of Ratings:
865
Reviews
2008-08-05 17:49:02
Vocabulary is used to keep audience awake. Contains some fluff.
Rate and Review This Podcast
Show All Reviews
Stats
| Daily | Unique PVs | Total PVs | Unique In | Total In | Unique Out | Total Out |
| --- | --- | --- | --- | --- | --- | --- |
| Average | 2.8 | 4.1 | 0 | 0 | 0.2 | 0.2 |
| Today | 1 | 1 | 0 | 0 | 0 | 0 |
| Yesterday | 3 | 3 | 0 | 0 | 0 | 0 |
| May 25 | 2 | 5 | 0 | 0 | 1 | 1 |
| May 24 | 4 | 4 | 0 | 0 | 0 | 0 |
| May 23 | 4 | 9 | 0 | 0 | 0 | 0 |
| May 22 | 2 | 2 | 0 | 0 | 1 | 1 |
| May 21 | 3 | 5 | 0 | 0 | 0 | 0 |
| May 20 | 4 | 7 | 0 | 0 | 0 | 0 |
| May 19 | 1 | 1 | 0 | 0 | 0 | 0 |
| May 18 | 4 | 4 | 0 | 0 | 0 | 0 |
| Highest | 20 | 96 | 4 | 60 | 4 | 20 |
| Weekly | Unique PVs | Total PVs | Unique In | Total In | Unique Out | Total Out |
| --- | --- | --- | --- | --- | --- | --- |
| Average | 19.2 | 33.4 | 0.6 | 1.8 | 1.1 | 1.1 |
| This Week | 16 | 24 | 0 | 0 | 2 | 2 |
| Last Week | 21 | 37 | 0 | 0 | 0 | 0 |
| Week 19 | 20 | 28 | 1 | 1 | 1 | 1 |
| Week 18 | 12 | 22 | 1 | 1 | 1 | 1 |
| Week 17 | 21 | 47 | 0 | 0 | 2 | 2 |
| Week 16 | 21 | 47 | 1 | 1 | 2 | 2 |
| Week 15 | 24 | 36 | 1 | 9 | 0 | 0 |
| Week 14 | 27 | 49 | 1 | 5 | 1 | 1 |
| Week 13 | 13 | 19 | 1 | 1 | 1 | 1 |
| Week 12 | 17 | 25 | 0 | 0 | 1 | 1 |
| Highest | 85 | 242 | 11 | 65 | 12 | 22 |
| Monthly | Unique PVs | Total PVs | Unique In | Total In | Unique Out | Total Out |
| --- | --- | --- | --- | --- | --- | --- |
| Average | 86.7 | 146.2 | 2.4 | 6.8 | 3.3 | 3.3 |
| This Month | 69 | 111 | 2 | 2 | 4 | 4 |
| Last Month | 96 | 182 | 3 | 15 | 5 | 5 |
| Mar 17 | 102 | 171 | 3 | 4 | 4 | 4 |
| Feb 17 | 42 | 57 | 2 | 2 | 1 | 1 |
| Jan 17 | 72 | 203 | 2 | 25 | 3 | 3 |
| Dec 16 | 74 | 107 | 0 | 0 | 2 | 2 |
| Nov 16 | 107 | 158 | 2 | 2 | 3 | 3 |
| Oct 16 | 96 | 132 | 2 | 2 | 4 | 4 |
| Sep 16 | 101 | 151 | 3 | 3 | 4 | 4 |
| Aug 16 | 108 | 190 | 5 | 13 | 3 | 3 |
| Highest | 306 | 887 | 37 | 74 | 36 | 41 |
| | Unique PVs | Total PVs | Unique In | Total In | Unique Out | Total Out |
| --- | --- | --- | --- | --- | --- | --- |
| Overall | 18182 | 36309 | 1088 | 1456 | 1055 | 1132 |